Hi guys! So I do apologise as I was meant to post this review ages ago but here we go....
I love Maybelline products. I love the fact the range is so affordable for all groups but the products are of high quality. The Baby lips product range has been so successful and I can say that I am a huge fan of the tinted lip balms. So I was so excited when I found the Baby Skin Pore Eraser in Boots.
This pore eraser acts as a great primer underneath your foundation and as I suffer from oily skin this is great to smooth out my complexion. It makes my skin feel super soft and allows me to have a shine free T-zone all day. I use it underneath my foundation and then set with powder. This way I have found it works its best! Its easy to apply, lightweight, natural looking and smooth. It comes in a tube which is easy to apply and is a serum silicon based product. It glides on easily and blends in well to majority of skin types. It is def a staple product for your make-up bag and for the affordable price this is amazing and a must buy. I would highly recommend this product as even if this is not for you then it will not break the bank at £7.99. With the current offer of 3 for 2 on all Maybelline products def a good idea to pick up!
The SuperStay Better Skin Foundation is another new product from Maybelline. I am a huge fan of liquid foundations and this one claims to improve your skin every time you apply this. It def helps reduce blotches and uneven skin-tones and it creates a flawless finish. It contains a hydrating formula with Actyl C. As it is non-comesogenic and perfum free this foundation is great for even those with super sensitive skin. Great to wear in the day as contains SPF20 to protect from harmful UV rays and can be worn for suitable everyday wear as it is breathable for your skin.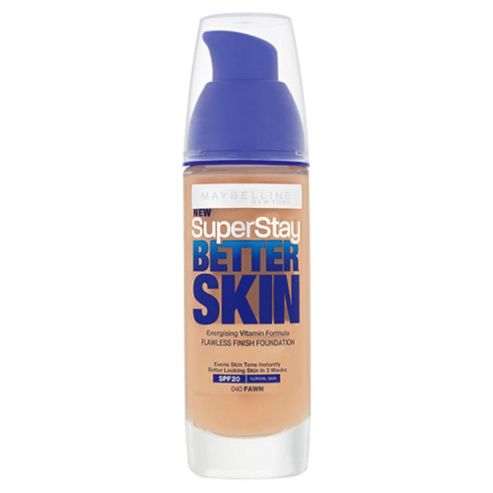 I would def recommend both products as both affordable even if you do not get on with them yourself. For myself having oily skin I would prefer a more matte foundation but it is still a great purchase!!! Find the Maybelline SuperStay Better Skin
here
and the Maybelline Baby Skin primer
here
.
Thanks guys until the next time take care xxx